Experience. Quality. Service.
American Structures, Inc. specializes in the design and manufacture of bolted, stainless steel storage containment vessels and related products. For over 45 years, we have been the leader in providing bolted, stainless steel storage tanks for potable and non-potable water, process, and dry storage applications in the municipal, agricultural, industrial, and commercial sectors.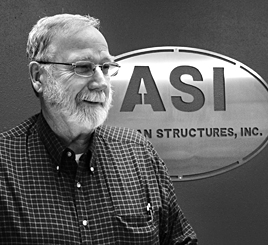 A strong work ethic and adherence to recognized standards and maintenance of corporate integrity drives American Structures, Inc. Our company was established in 1975 by Earl Wildenberg, President. Earl remains the driving force behind American Structures, Inc.'s continued success as the leading provider of bolted stainless steel tanks. Surrounding himself with a quality and experienced team of designers, fabricators, managers, and administrators, President Earl Wildenberg is never far from the schematics and blueprints. Overseeing estimates, checking in with fabricators and pushing the pencil on a proposal request, Earl ensures that American Structures, Inc. remains a hands-on company, where face-to-face discussions and a handshake are the preferred method of forging an agreement.
American Structures, Inc. tanks have been erected across the United States, as well as internationally. In over 45 years of service, none of our bolted, stainless steel tanks have required replacement. That's a lot of satisfied customers!
Our company president, Earl Wildenberg, has a well-deserved and highly respected reputation with customers, as well as competitors. He is actively involved in consulting and maintaining the standards and regulations so important to the industry.
The entire staff of American Structures, Inc. is dedicated to customer satisfaction and continuously strives to exceed expectations. American Structures, Inc. is a hands-on company, where straight talk and a handshake are still the preferred method of forging a business relationship. Our friendly, experienced, and knowledgeable staff is here to help you from your first call with questions for a tank quote through the final erection of your bolted, stainless steel tank on site.
American Structures, Inc. serves the industrial, commercial, municipal and agricultural sectors in the manufacture, design, fabrication, and installation of bolted, stainless steel storage vessels. In addition, we can be of assistance in providing quality, affordable, tank engineering and tank design services, as well as machine shop and fabrication assistance for steel projects of all sizes and scope.
American Structures, Inc. offers new, glass-fused-to-steel tanks as well as the service, parts, relocation, and resale of stainless steel and pre-owned, glass-fused-to-steel tanks.
---

Tank Engineering and Tank Design Services 
From conceptualization to completion, each tank project is unique and designed especially to fit the unique needs of our customers. Our in-house CAD (Computer-Aided Design) Technicians design your tank from the floor up, make suggestions for placement of accessories and appurtenances, and prepare tank drawings for fabrication.
American Structures, Inc. provides tank estimates, structural tank calculations, and schematic tank drawings depicting the exact size, shape, and desired appurtenances of each tank project. After review by our Design Department and approval by the customer, these tank drawings provide the parameters for each tank's fabrication.
Our tanks can be designed for future expansion through planning in the initial stages. Our staff of experienced design experts will assist you in making sure the footing, floor, and foundation are strong enough to allow for any additions to the tank.
Many engineers and owners prefer bolted, stainless steel tanks due to their expandability, ability to be relocated, and retention of their residual value if or when they are resold, should the need for the tank no longer exist.
We take pride in our work and stand behind our products. All American Structures, Inc. tanks and products have standard 1, 5, and 10-year warranties (depending on the application project) to assure customer satisfaction.
We also design and manufacture stainless steel roofs, supply and service geodesic domes which are totally compatible with our tanks, or provide domes and roofs as replacements for other tank roof styles. In addition, American Structures, Inc. has a full-service fabrication shop able to work with mild steel, stainless steel, and aluminum. No job is too big or too small for our team of fabricators. Our machinists and fabricators are some of the best in the business. Their creativity, talent, and experience enable them to stand out from the crowd, providing fabrication and welding services for a variety of local commercial and industrial enterprises.
---
Customization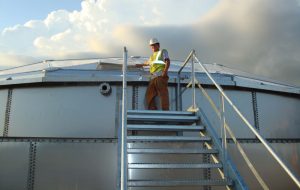 American Structures, Inc. primary area of expertise is the design, fabrication, and erection of bolted, stainless steel tanks. By coupling experience with the benefits of stainless steel, we deliver an exceptional product. Each tank is individually customized through CAD (Computer-Aided Design) and prototype design/build processes to meet customer specifications. At our fabrication facility, we manufacture tank components utilizing stainless steel sheets of various thicknesses, which are precisely punched and rolled by CNC (computerized numerical controlled) equipment into the required shapes for each tank. This process and bolted design insures the precise telemetry of each tank, streamlines the time and labor required for the erection of the tank, and decreases the staging area necessary at the job site.
No additional tank welding or cutting is necessary after each tank leaves our fabricating facility for delivery to on-site locations. Our various erection crews, located across the country, help to speed the assembly process, which in turn reduces erection costs.
The use of bolted, stainless steel in the fabrication of an American Structures, Inc. tank means you'll have a storage solution that is:
Maintenance free
Stain resistant and rust free
Versatile and able to store most types of materials
100% recyclable, helping to preserve the environment and reduce waste
Fire and heat resistant, allowing for storage in multiple and varied applications
Blends into the surrounding landscape
Strong and durable, with a high strength-to-weight ratio
Impact resistant, insuring higher levels of safety
Less expensive over the long term, when compared to alternative metals and methods
Our bolted storage tanks can be easily expanded without changing the storage system or tank design, offering versatility and the ability to grow with your needs.
---
Specialized Hardware

Our bolted, stainless steel tanks are erected and made watertight by a combination of specialized bolts and sealant. Our bolts are designed specifically for use in our tanks to ensure the best possible fit and compatibility to the stainless steel sheets used in building the tank.
What makes them different? Our specially manufactured and designed stainless steel bolts, nuts, and washers have:
A larger bolt head
Tooling threads underneath the head
Fins on the neck of the bolt
Larger washers
Stainless steel hex nuts
Depending on the contents and construction of the tank, we also have encapsulated nuts available for use.